It is your day. A wedding is supposed to be about the bride. However, guests are a huge part of that happiness. Should said guests become unhappy with something, it could ruin the day for both the bride and the rest of her guests?
The Huffington Post recently released a list of the Top Ten Wedding Guest Complaints. Brides should take note of these points. Some of these are easily avoidable and could lead to a much happier wedding day.
1. An inconvenient date.
Be conscientious when picking a date that falls close to a holiday. Asking guests to forgo spending Christmas or New Years with family in order to help you celebrate may not be fair to their traditions. If you are considering such a date, be sure to check with those closest to you, that you know you cannot be without on your big day. It shows that you are concerned with their feelings and that their attendance means a great deal to you.
2. Invitation Confusion
It can be so frustrating for a bride when she gets an RSVP back from her third cousin and he has added a plus-one when there was no intention of giving him one. Be straight forward. If someone RSVPs with a plus one that you did not account for, be straightforward with them. Another way to avoid any awkwardness, is to write the names of the guests you wanted to invite on the response card and have them check off "will attend" or "will not attend."
3. Seating Snafus
Some may think that the guest list is one of the most difficult parts of planning a wedding. However, a much more difficult task comes once all of the RSVPs have been received. Coming up with a seating chart can be a very daunting task and it requires a lot of attention to detail. Keep in mind those that you know will not get along (no one wants a screaming match to ensue.) A good seating chart is crucial to a smooth, enjoyable reception.
4. Cash Bars
All the pros in the industry agree that a cash bar is a no-go. (See David Tutera's reaction when asked about them.) If you are worried about the cost of an open bar, limit it to beer, wine and champagne.
5. Weather Woes
Everyone has been, or will go to a wedding that takes place outside in the middle of July or one that is held on the same day that the biggest snow storm in years hits the area. Sometimes, weather issues can be unavoidable. However, there are some measures you can take in order to keep guests as comfortable as possible. Some ideas are fans that double as programs or giving bridesmaids shawls as a gift for a winter wedding.
6. Food Frenzy
No bride wants to hear that the food at her reception was bad. Therefore, brides MUST attend a tasting before choosing their menu. The plus is that many venues offer a tasting when a couple books their reception. At the tasting, you will be able to taste a bunch of different menu items. Then, you can choose the most delicious menu possible for yourself and your guests.
7. Toasts and photo montages that drag on
Toasts from the maid of honor and the best man are a staple when it comes to wedding receptions. However, when those speeches drag on for 15 minutes each, guests tend to get restless. That being said, tell your attendants that the speech does not need to be a novel. Tell them that keeping it short and sweet is perfect. If that doesn't work, arrange for the DJ to start some music if the speech gets too long-winded. That should prompt the speaker to wrap it up.
8. Please stop the music!
While wedding receptions often offer dancing into the wee hours of the morning, be sure that your DJ has a good mix to work with. Keep in mind that your grandmother may not be into hearing Beyoncé's entire new album played at max volume. There should be music that appeals to people of all ages! Add in some Frank Sinatra and you will win major brownie points when you ask grandpa to dance with you!
9. Disorganization
No one wants to sit through a cocktail hour that lasts three hours because the bride and groom had to have pictures at the places where they had every date they ever went on. A rule of thumb is that the wedding ceremony and reception should be within two hours or each other. If there is a lot of space between a ceremony and reception, think about posting signs to make sure guests head in the right direction. Just keep things organized and flowing swiftly.
10. Your guests are there for you, so be gracious!
Guests want to be able to have a moment of the couple's time to congratulate them. Therefore, the couple should be sure to make the rounds at the reception or hold a receiving line after the ceremony. Thank you notes are also a must-have. Guests want to know that their gift was received and appreciated. Those notes should go out promptly after the wedding, to show maximum appreciation.
If you keep these tips in mind, both you and your guests are sure to have an amazing time celebrating the best day of your life!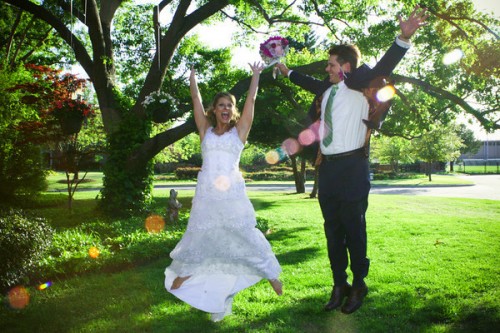 If you or anyone you know is in need of a wedding planner, you know who to call! Divine Events is here to help with any and all wedding planning needs. For more information or to schedule a consultation, call 314-669-5933 or email at info@mydivineevents.com.
~Happy Planning~